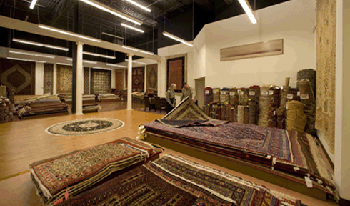 When in New York or New Jersey, the choice is Ari's Cleaning Service for all your rug cleaning needs! Like no other company in the business, we offer the best professional services anywhere for residences and businesses alike, with no job too large or too small for our expert technicians. We can do the work right on your premises, or take especially tough challenges to our state-of-the-art facility where it will be cleaned in the most modern, environmentally friendly methods available to the industry today!
Part of the Ari's Cleaning Service secret is our specially designed micro-agitator which loosens up foreign particles prior to further processing. We then soak your rug so as to further prepare it for the actual wash, which is done with fresh water free of contaminants. A gentle rinse and some careful grooming later, your rug will be ready for drying in a temperature controlled room. All rugs must pass a thorough inspection before being returned to the client - or we repeat the process all over again! After all, your rug deserves nothing but the best - because you deserve nothing but the best!
Rugs can be cleaned in your home, or we can remove them, clean them in our facility, and reinstall.
So choose Ari's Cleaning Service for more than run-of-the-mill service. No matter your situation or that of your rug, call us first for the quality, savings, and service you deserve! For no one else specializes in your peace of mind like we do, a local family owned and operated small business with years of experience serving a diverse clientele. At Ari's Cleaning Service, we believe that your satisfaction is our first priority. It's the reason why we have become the Tri-State Area's leading provider of premier rug cleaning and restoration services, growing every year to cover an ever expanding roster of clients. Give us a call today to experience the difference yourself!
Found us through Google? Mention that and receive 10% savings!